As the wise poet and modern philosopher Robyn Rihanna Fenty once said, "Sticks and stones may break my bones, but chains and whips excite me!" Na-na-na-na-now come on, time to dive into the world of BDSM.
Let's start with a little history. July 24th is recognized as World BDSM Day, a day that dates back to 2003 with Kurt Walter Fischer, the owner of a BDSM club in Barcelona. The Rosas Cinco Club is considered the first club in Europe dedicated to the sexy practice, and the date "24/7" was chosen in reference to the community notion of living the BDSM lifestyle 24 hours a day, 7 days a week. The purpose of this day, similar to this article, is to break down the taboos of BDSM, to better understand it, debunk misconceptions, and take a critical look at the practice.
BDSM refers to (B)bondage, (D)discipline, (D)dominance, (S)submission, (S)sadism, and (M)masochism. BDSM is an umbrella term for different erotic activities and subcultures enjoyed by consenting adults. It can include the use of props, roleplaying, elements of kinks and fetishes, and exploring power dynamics between consenting partners. To help us better understand this exciting, and perhaps intimidating, practice is author, activist, sex, and relationship therapist, Jamila Dawson, LMFT.
What are the most common misconceptions people tend to have about BDSM and kink? What sort of stigma do you most often encounter?
Some of the most common misconceptions from people who DON'T practice BDSM/kink are that:
- It's only for sexual "deviants."
- That these are practices outside of "normal" sexual expression.
- That you're only into kink because something bad happen to you as a child.
None of these are true. The expression of human sexuality is rich in diversity and variations and there is ample information that people throughout millennia have used sensation, role play, and objects to create a variety of erotic or ecstatic experiences. In BDSM, negotiation and informed consent are the foundation of these practices. Additionally, there have been studies that demonstrate that people who engage in BDSM/kink experience higher levels of subjective wellbeing and engage in the same level or more pro-social behaviors when compared with non-BDSM/kink practitioners and are no more likely to have psychological distress than the general population (Rogak, H. M. E., & Connor, J. J. (2017). (Wismeijer AA, van Assen MA. 2013).
Some of the most common misconceptions from people who DO practice BDSM are that:
- You can't have a "mental illness" (i.e. depression, schizophrenia, bipolar I) and do it safely enough.
- A good dominant/submissive relationship can "cure" you of low self-esteem, disordered eating, or drug addiction.
- Everyone in the BDSM culture has emotional damage.
None of these are accurate either. If a person is managing their symptoms, the other partner(s) have given informed consent and there are ongoing discussions on mitigating risk and what to do in case of emergency, there are many ways to enjoy a satisfying kink experience or kink relationship. Further, in a healthy dominant/submissive relationship, the people involved can be wonderful supports when navigating addiction etc., but they cannot and should not take the place of a professional care team. And finally, the troubling truth is that many of us, regardless of our participation in BDSM, have experienced direct trauma or vicarious trauma. Unfortunately, it's far too common. However, because of the practices of vetting, negotiation, and consent that are foundational to BDSM/kink, it's more likely that discussions of trauma or triggers will come up. This transparency is healthier, not less. (It's not necessary at all though to give in-depth details to anyone about your trauma, that is only for people you trust and the other person has consented to listen). Ongoing learning, attending BDSM classes, conferences, seeking out thoughtful mentors are all ways dissolve stigma and deepen one's understanding. My chosen ways of combating stigma are training other clinicians to be kink affirming and also teaching kink classes for people interested in getting into the scene.
Can you tell us more about the roles of pleasure and pain? How is pleasure or gratification received from acts that can be interpreted as painful, violent, degrading or humiliating?
I love this question because it's probably one of the most common questions that comes up! Pleasure and pain are not absolute states. They are heavily dependent on context, and context is what BDSM is all about. When you have a context in which you feel safe enough, sexy, are curious about your body or the body of somebody else, within that context, we can process different sensations in different ways.
One of the other big misconceptions about BDSM is that everything has to be harsh or painful or that pain or degradation is the entire point. And that's not true either. What BDSM really can be, is an exploration and discovery of all the things that makes a person's sexuality absolutely unique. And it's an activity in which we can let go of preconceived notions about how our bodies should feel like, should sound like, should look like. Instead, we can focus more on what's interesting about our body and the other person's body. We can be imaginative and creative. In doing that, the absolute binaries of pain or pleasure fall away, and it becomes more about: "Do I like this? Does this feel good? Does this give me the feeling that I'm looking for? How am I changing?" What's really cool is that in BDSM, you can go beyond the typical structures of what we expect sex to be and it can be this really beautiful creation of what is actually hot to you. As long as there's the negotiation and consent, then really, whatever you want to feel and each of the people involved want to try, is okay. Then the experience can be whatever you want it to be or need it to be.
Additionally, anything you can do hard in BDSM, you can do soft and often times, that can have a huge effect! Further, a lot of people look at BDSM and ask why would you want to do that to somebody or why would you want to receive that degradation or that humiliation or that pain from somebody? My take is that most people are actually really pretty decent people. Most people care about other people. At the same time, humans were very curious about taboo things or things that "aren't right." So again, in BDSM, we have an opportunity to try things and experience things that we're not "supposed" to be or that we're not "supposed" to like. So in the regular world, no, you should not degrade people or humiliate people. In the regular world context, that's damaging and mean to humiliate or degrade somebody. But in BDSM, when you are thoughtfully and intentionally wanting to create an experience, and try something, it's like tasting an exotic food. Then you get a chance to really see what this experience is like and because it's based on consent and care for the people involved, if something goes wrong, then any of the people involved can use their safeword and it stops unlike in the regular world, where people bully people, harm people or abuse people. In BDSM, we get to experience these different unusual states of mind or play with experiences within a context that it supports that exploration.
Why do people get involved in BDSM practices? Are there reasons outside of the basic sexual pleasure?
People get involved in BDSM and kink for a variety of reasons. I'd also say that there is no such thing as "basic" sexual pleasure. What's really exciting is that sexual pleasure isn't really a thin one-dimensional line from arousal to play to orgasm and then done. Real sexual or erotic pleasure is three dimensional. So because it's three dimensional, we can experience it with all different kinds of senses, and in relationship to others. I think that's what makes BDSM so magical and incredible; sexual pleasure is a beautiful and amazing in and of itself. And there's nothing basic or simple about that; it's rich and complex and fun and cool and creative. That's why a lot of people are curious and interested in BDSM, because they want their sexual and/or erotic experiences to have some sense of playfulness by wearing different clothes, or occupying different roles, or trying out different things that their body can do, trying to feel or experience different states. There's so much actually that goes into our sexual/erotic pleasure that I want people to feel free to experience as much of it as they healthfully can. But similar to the way that we engage around food, the appetite that we have is complex and rich and there's all kinds of ways for us to enjoy it. Just like with food, in BDSM there's no one right way or one combination that is delicious for everyone. We enjoy food with a sense of depth and breadth and complexity. Why can't we enjoy our sexuality with depth and breadth and complexity as well? If somebody else wants their food or their sex in a less complex form or manner that doesn't make either one less legitimate. What matters is that it's available and satisfying for you.
Have you noticed a trend for why and when people become interested in BDSM? (For example, a big change in someone's life, etc.)
Some people have had desires and fantasies for many years and finally seek out the scene while others come to BDSM through a lover, relationship or seeing a BDSM performance at a club, or reading a book. I've seen everyone from people in their 20's to their 80's at BDSM events and people of different ethnicities, genders, and abilities. I wouldn't say that there is a specific reason people become interested in BDSM but generally speaking, people into BDSM tend to be creative, risk-takers, imaginative, and have pro-social qualities.
What are the main benefits of practicing BDSM?
- We can learn to embrace our power to choose and learn from consequences and experiences.
- Learn to identify and speak about our desires, sensations, emotions.
- Learn about our sexual and/or erotic expression and how it can change.
- Move through feelings of shame and isolation.
- Learn to be in process, in the moment, instead of the end result.
- Meet potential friends and lovers or deepen intimacy and trust in current ones and have fun.
Can BDSM be "prescribed" as a form of therapy? How can this help individuals/couples?
No, BDSM/kink should not be "prescribed" as a form of therapy. As a sex therapist, my job is to help people navigate their own healing, grow in self-awareness and self-worth, support them to create community, destigmatize sexuality and provide high quality resources for them to use in pursuit of consensual sexual expression. If a client is interested in BDSM or simply curious about it, I will answer questions and give them information to help them make an informed decision on how they want to proceed. Some of the elements that have made BDSM therapeutic and helpful is that people can learn about their imagination, deepen intimacy and trust, learn about their body's responses; they can learn to say "no," learn to truly say "yes," learn to establish boundaries and have that respected, all of which are crucial for healthy relationships.
So, for example, if someone wants to re-enact, in a BDSM scene, a situation that harmed them in order to heal, I encourage them to gather information, attend classes, and really think deeply about what they want to do so that they avoid re-traumatizing themselves instead of freeing themselves from the past. I will be transparent with my clients that there are significant risks and significant rewards to engaging in BDSM, but great experiences are not guaranteed. BDSM can be therapeutic, but it is NOT therapy and anyone who purports to be doing "spanking therapy" or something similar, might have good intentions, but they are doing something unethical and dangerous by calling it therapy. Additionally, I've also been seeing some non-licensed people who refer to themselves as "trauma-informed," but do not have training about what that actually means and are not seeking continuing education on the topic. You don't have to be a therapist to engage in a trauma-informed manner or to offer trauma-informed classes or experiences but the term has a specific meaning and it's extremely important that people don't mislead folks. I absolutely encourage people to ask questions of anyone they're seeking help from so that they can find the right kind of useful support.
As a sex professional, how do you feel about how BDSM is represented in mainstream porn?
I encourage my clients who watch porn or who are curious about it to find ethically-made porn like the content from Pink & White productions or to find and directly support individual content creators. I also really like BDSM porn that shows the performers negotiating beforehand and/or discussing afterwards how the scene went for both people. Because BDSM/kink can look intense, painful, or cruel, it can be nourishing for the participants and the viewers to humanize the experience through discussion. Part of the hotness of BDSM is what I call the "post-game wrap-up" where the people involved get to put into words the erotic experience they just created with one another's bodies!
Is there stigma towards certain types of practices by certain types of people?
Whenever I teach classes on BDSM, I like to remind people that all of us have been influenced by the larger culture(s) and we all have pre-judgements, assumptions, and internalized stories about race, gender, skin-color, class etc. The trick is to work to become aware of them so that you can avoid being harmful to yourself or harming others. I definitely still come across people who have either internalized the idea that they can't be or do something in BDSM/kink because of an element of identity or other people have told them that they have to be a certain way because of the body they have. Some examples of this that I've seen or heard about are assuming that Black women are all dommes and want to humiliate people, or if you are bi-sexual then you are also a switch, or if you are a big cis-man then you must either be a Dominant or a "big sissy." In BDSM/kink you can do and be ANYTHING you want at any time and more likely than not, your interests and tastes will change, deepen, of fall away. Every iteration of one's experience in BDSM is legitimate. And as long as you seek consent from yourself and others and seek to enhance pleasure and to mitigate harm, follow your bliss and have fun.
How can BDSM be empowering from a feminist perspective? An LGBTQ+ perspective? A BIPOC perspective?
Agency and choice are fundamentally empowering. To move into your agency, to feel that you can decide what to do with your time, your body, what you want to be called, who you want to be, and to choose from a variety of options (roles, toys, outfits, relationships) in connection with others, is liberation. For any person who is part of a marginalized and/or historically disenfranchised population, the disenfranchisement has meant that our choices are limited and our agency has been shamed or shut down, our bodies and minds have not been ours to truly enjoy. Playing with BDSM/kink, for some of us, is a way to experience a spectrum of possibilities regardless of if they are "socially acceptable" or not. Our kink experiences can be an embodied reminder that volition, consent, and the expression of desire are all worth fighting for.
Are there any challenges faced by the Black community related to BDSM specifically? Are there any specific benefits?
There are specific challenges faced by Black people who are into or interested in BDSM/kink. The kink scene is still predominantly White and issues of fetishization and tokenization or outright racism still happen in BDSM communities in all parts of the country. Because of social media, more Black people are able to learn about BDSM and have more opportunity to connect with other kinky people. I've also seen Black people and other POC informally coordinate to go to events and conferences together and/or to start play parties and events that are identity-specific in order to have a safer space to play in.
Additionally, there is a history of Black people creating and/or attending kink events, conferences etc. since at least the '70s and possibly earlier. BDSM is not just "white people shit." Black people, like any other human, have a range of sexual/erotic interests and I'm extremely glad to live in a time in which there are more ways to explore them. However, Black people still face multiple assaults on our physical, mental, and spiritual health through the multiple fronts of systemic racism and interpersonal abuses of power and have for generations.
Some of the potential benefits of doing BDSM specifically for Black people are that we can play with our bodies and our relationship to power in ways that can be nourishing, healing; that subvert the cultural scripts we have to deal with everyday and in ways that help us create moments of pleasure and expressions of autonomy.
In your opinion, would you say the discourse around BDSM has changed over the last few years and where do you think it's going?
I've definitely seen the discourse change over time while at the same time, there are still the concerns and challenges that kink folks have been wrestling with for decades. More people are talking about race, class, gender and ability and how to make space at kink events for more kinds of people and we are still challenged by stigmatization that has serious medical, mental, legal and, social consequences. I've seen more mental health therapists interested in learning to be kink-affirming and the DSM 5, while not perfect, has better language than previously.
I'm hoping that more advocacy for legal protection occurs and that the foundational elements of BDSM; some of which are negotiation, consent, creativity, sex/pleasure positivity, and community will keep spreading through the culture. I believe things are going in an upward spiral leading to less shame and more pleasure.
What advice would you give to couples looking to explore BDSM for the first time or to an individual who wants to try BDSM with a partner?
Start simple, decide on your safe words (easy to remember ones are "yellow" to slow down the action, "red" to stop the scene entirely.) Determine an intention or what each of you hopes to get out of the scene and set a specific time frame for your scene. Remember that you can create an incredible scene with just a blindfold and one implement or even just your hands. I'd rather that people have a small, simple experience that leaves them feeling good and excited to try more than some complicated too-intense experience that scares somebody off from doing BDSM/kink again. This is supposed to be pleasurable!
Basic BDSM For Beginners tips?
Go to as many classes (virtual or in-person) as you can, read books and articles from thoughtful, experienced people who have been doing kink for awhile, learn about safe words, how to vet potential partners, how to negotiate with a partner, and attend virtual or in-person munches (these are non-sexual meet-ups where people can get to know one another in a low-pressure environment).
BIO
Jamila M. Dawson, LMFT, is the co-author of the book With Pleasure: Managing Trauma Triggers for More Vibrant Sex and Relationships and co-author of the upcoming book Essential Clinical Care for Sex Workers: A Sex-Positive Handbook for Mental Health Practioners (2023). A licensed therapist with an expertise in sexuality, trauma, and relationships, Jamila has been a sex educator since 2005 and has practiced psychotherapy since 2015 when she opened her psychotherapy practice, Fire & Flow Therapy. Jamila uses her social media accounts to share practices, tools, and reflections on sexuality, racial justice, relationships, and mental health. She has two gorgeous black cats and loves to read Victorian murder mysteries and sci-fi.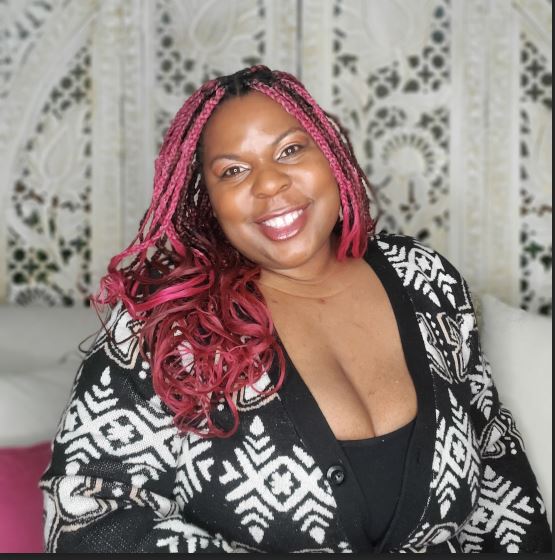 Instagram: @Jamila.thesextherapist
Twitter: @Jamila_Dawson
Official Website: fireandflowtherapy.com